So I have a Yamaha V-Star 1300 cruiser. I do not have a lift and I am alway scared to buy one of those ATV lifts for fear that the bike will fall over or worse, fall over on me. So I like to save some cash and do my own oil change and that saves me a decent amount of money and gives me the satisfaction of doing the work myself. Now there are the books for your maintenance to tell you the torque specifications that you need.
Tools & Parts needed to change the oil on your V-Star 1300:
Low profile oil drain pan
17mm socket and socket wrench.
Oil filter remover for motorcycles (smaller than cars)
Torque Wrench
Oil Filter (I use the K&N filter with the 17mm bolt on the end of it. Easier to put on and take off)
Oil (I use 15W50 grade of synthetic)
Now you can figure out how to change the oil and I am sure you have but lets talk more about the Low-Profile Oil Drain Pan.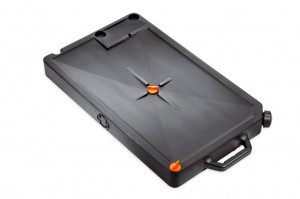 What I like about this Low-Profile Oil Drain Pan is that I do not have to raise my bike off of the ground. I just slid it under and did the maintenance that I needed to do. I love how easy it is to do the oil maintenance on my motorcycle, I do not have to put it on a curb, I do not have to use a cherry picket or have friends help me. The really best part is the Drain Pan will hold 2 oil changes. I bought it at the local Harley-Davidson dealership and I did feel weird walking in there. Too much chrome on the wall. Way too much chrome. I did see some really expensive motorcycles that I will never own because I am not willing to spend that much on a motorcycle no matter the situation.